Conversationz 1.0 cards game from Swacardz is especially designed to foster deeper connection with self, with friends, family and teams. They are excellent tools to surface our truth, our emotions, feelings and thoughts and thus creating space for bridging of hearts to happen quite smoothly and safely. 
Engaging Conversations with friends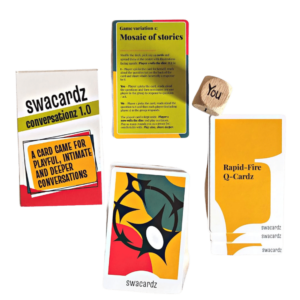 Self reflection and introspection
Facilitating connections within team
Normalising conversation around body,
identities, fears, feelings and judgements
Intimate dialogue with romantic
partner/spouse
We had a beautiful space created through Swa Cardz with the fellows. It was an extremely vulnerable space and everybody had such wonderful stories and experiences to share. Definitely helped the fellows to know each other a bit more and feel connected.
Shilpa Nair
Design & learning-development manager at Uninhibited
We've been practicing these deep dialogues and quiet time as a family and these cards have come in with many fresh set of questions to reflect upon!
Vipul Shah
Mindfulness Coach
My entire team is a fan of this. I got it with me when we joined back office after 9 months of work from home. It provided good fun time post work hours!
Krati Gahlot
Management Studies at Vedica
For the longest time, I have wanted to connect to my mom, dad and brother on levels outside the boundaries imposed by societal roles. Swacardz came in like the perfect answer to my prayers. When we explored Swacardz together, it felt as if we were effortlessly able to reveal the other sides of our persona. I can confidently say that I got to know my folks much more deeply in those few hours of play, than years of living under the same roof!
Amazing set of reflective questions and enquiry it has. Conversation cards are very cathartic and another dimension experienced was that people somehow picked up the cards that were relevant in their lives and instantly, a smile came...Isn't it beautiful? Almost 60 to 65% of people who played felt that way. And I am talking of place where I had interaction with 150+ people.
Poonam Menaria
Counsellor
I had my class reunion from Christ college, Bangalore and we played swacardz conversation cards. Everyone loved it. Small actions of yours have huge impact as everyone in the room were moved with the questions that were there on the cards
I played the conversation cards for the 1st time with my friends yesterday. I was at first apprehensive as to how will the cards fit with the party set up. It turned out to be really fun and made the space very reflective for everyone. There were some deep sharing too...which pleasantly surprised me.
Khushali
Educator at Akanksha Foundation